Automation Engineering Technology: Robotics & Automation
Bachelor of Science Degree (B.S.)
About this program
Robotics and automation push productivity to new levels. Will you push it even further? Will you solve tomorrow's challenges with innovation and ease? The Automation Engineering Technology Robotics & Automation program is home to problem-solvers and independent thinkers. A community of creators with a drive to demand more from technology and from themselves. From electrical and electronics to mechatronics and robotics, students learn the ins and outs of complex automated systems used in the world of manufacturing. It doesn't stop there. An understanding of vision systems, networking, and software applications rounds out the experience.
Careers
Automation engineer
Project engineer
Controls engineer
Courses
At Penn College, we believe your educational experience should go beyond specialized skills. Real-world ready means taking a broader approach that builds communication skills, inspires collaboration, and encourages exploration of arts, history, and science.
​​Specialization requires in-depth knowledge and high-level proficiency. Students learn and apply major-specific concepts, skills, and methods.
​Perspectives are points of view, offering a variety of ways of understanding, interacting, and influencing the world. Students identify, explain, and utilize the approaches used by academics and professionals to study, analyze, or understand problems, and offer solutions.
​​Foundations are the practical, intellectual, and social skills: communication, collaboration, critical and ethical thinking, quantitative thinking, and technological literacy that are crucial to every student at every stage of education and at every stage of life.
Facilities
Robotics Lab
Get hands-on experience in our specialized learning labs with industry-standard equipment like PLCs, Cognex cameras, Fanuc robots.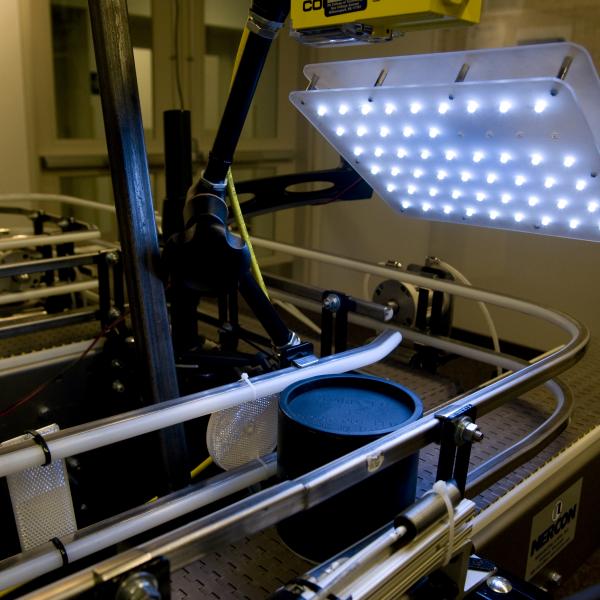 Our Leadership
"Automation careers are rapidly growing. This industry-driven curriculum pulls together robotics and automation, creating a uniquely relevant and in-demand skillset."
Bradley M. Webb, Ph.D., Assistant Dean
School of Industrial, Computing, & Engineering Technologies
Internship
Your knowledge in practice
Internships are key for career preparation. Apply your knowledge to the workplace and learn about the industry first-hand.
Learn More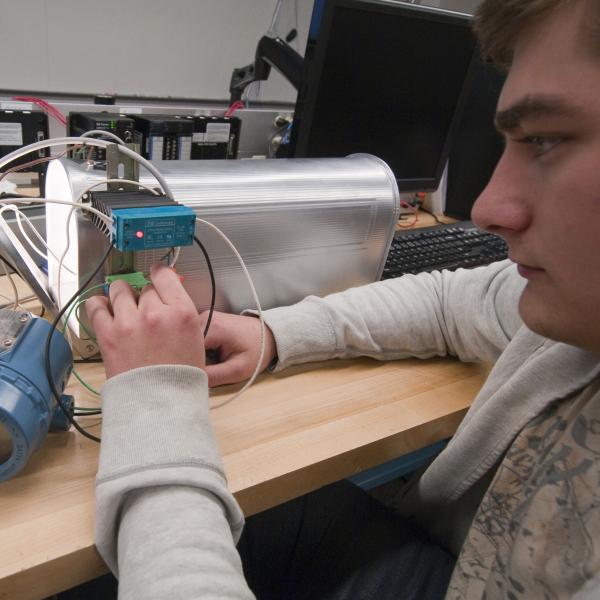 Related Programs
Follow your passion
Electronics & Computer Engineering Technology, Robotics & Automation Emphasis
Associate of Applied Science Degree (A.A.S.)
Automation Engineering Technology: Mechatronics
Bachelor of Science Degree (B.S.)
Electronics & Computer Engineering Technology
Bachelor of Science Degree (B.S.)
Student Life
Lead and put your skills to the test
Institute of Electrical & Electronics Engineers (IEEE)
Dedicated to advancing technological innovation and excellence for the benefit of humanity, the Penn College IEEE Student Branch meets regularly to work on professional soft skills, projects, and leadership.
SkillsUSA Champions at Work
Participation in SkillsUSA gives students a chance to compete in more than 80 national competitions.
Student Organizations at Penn College
Your college experience is about more than the classroom. Join one of 65+ clubs and organizations, or create your own.
News
08.01.2019
Penn College introducing new automation technology degrees
For more than a century, Pennsylvania College of Technology and its predecessor institutions have adapted to industry needs, so ...
03.12.2019
Pre-College Programs to enrich participants' summer experience
Building construction has been added to the abounding schedule of pre-college initiatives offered at Pennsylvania College of ...
10.01.2018
Setting the stage
From the Fall 2018 Penn College Magazine: Three graduates' craftsmanship wows audiences of more than a million a year at Sight & ...
Study Abroad
Gain global experience
See the world via Williamsport. Take your education abroad and get hands-on experience learning about your industry on a global scale.
Contact
Admissions Counselor
Lee Dawson
SASC, Rm. 1082
800.367.9222 ext. 7308
ldawson@pct.edu