Penn College Magazine
A publication of Pennsylvania College of Technology
Magazine Fall 2021
Recent Articles
Fall 2021, Volume 30, Number 2
Baseball, softball to have new homes
The Williamsport/Lycoming Chamber of Commerce is constructing a synthetic turf field complex adjacent to main campus, featuring six youth baseball/softball fields and a collegiate baseball field.
Cruising the world
Diesel technology graduate Brandon Langdon, '14, has experienced a lifetime of once-in-a-lifetimes aboard a 147-foot long-range expedition yacht.
'Living lab' lives on after half-century
Fifty years after the Schneebeli Earth Science Center opened "over the mountain" from main campus, alumni and former employees share their memories.
Work-life balance is beautiful in Alaska
At work, building automation technology grad Brian Watkins, '10, oversees Honeywell's Alaska branch. Off the clock, he's sharing his outdoor adventures with popular hunting magazines.
Launching a legacy
After nearly a quarter century leading Penn College, President Davie Jane Gilmour plans to retire in June 2022 and announced the launch of a legacy fundraising campaign.
Expert Tips
Filming yourself
These tips come from Hailee B. Mercy, a May 2021 graphic design graduate and a student videographer/editor in the college's Public Relations & Marketing Office.
Printed Issue
Download PDF
On the Cover
This issue's cover art, featuring retiring President Davie Jane Gilmour, was created by Mark W. Wilson, an instructor of graphic design at the college, using an assortment of watercolor brushes in Photoshop. The original photo it is based on was taken by Cindy Davis Meixel, writer/photo editor. In "Launching a legacy," Gilmour talks about her plan to retire in June 2022 and her launch of the "Tomorrow Is in the Making" campaign.
Inside Back Cover
From left, Alexis E. Heritage, who graduated in 2020 with an associate degree in information technology: technical support technology; Kienehn L. Jenison, software development and information management; and Mick O. Hoover, '21, information assurance and cyber security, build, test and troubleshoot networks in the networking lab (Center for Business & Workforce Development Room 143).
Inside Front Cover
Olivia L. Miller, of Muncy, demonstrates electrical diagnostic troubleshooting on a diesel truck as part of the Diesel Electronic Fuels: Systems, Operation and Diagnostics course at the Schneebeli Earth Science Center. Miller is dual majoring in electric power generation: diesel emphasis and heavy construction equipment technology. The Earth Science Center was dedicated 50 years ago.
Center for Career Design
Niche
The Center for Career Design brings together students, alumni and industry partners to benefit tomorrow's workforce. It is the hub for students and alumni to brush up their resume and interview skills or explore career opportunities, and for alumni and corporate partners to meet and hire Penn College graduates. The space houses the Penn College Foundation, Alumni Relations, Career Services, Corporate Relations and Donor Relations.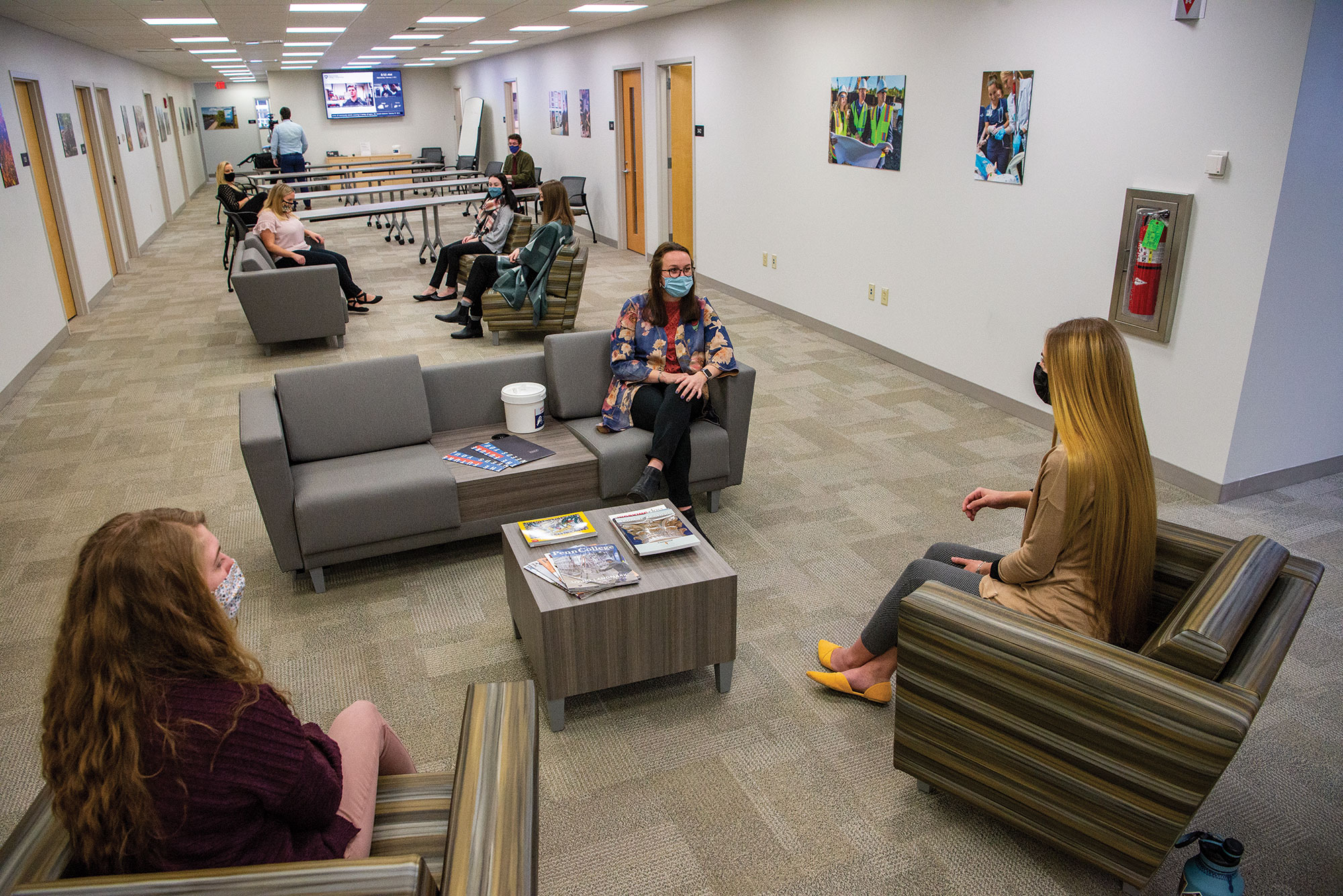 News
Visit PCToday to stay up-to-date with what's happening at Pennsylvania College of Technology. Whether you're looking for Penn College news or the latest activities and services, make PCToday part of your day – every day.
More news
10.20.2021
Photography exhibit explores anxious array of technology
Large photographs in a rich color palette evoking classic 17th century Dutch still-life paintings offer an exploration into ...
10.19.2021
Mutual avenues explored during administrative visit to state Capitol
Four representatives of Penn College traveled to the state Capitol on Thursday to meet with officials in the Pennsylvania ...
10.18.2021
Ornamentals to operations, landscape students get an eyeful
Penn College horticulture students took a field trip to the Arboretum at Penn State on Oct. 8, exploring the beautiful grounds ...
10.18.2021
American flags lowered in tribute to Gen. Powell
As a mark of respect upon the death of Gen. Colin L. Powell, former chairman of the Joint Chiefs of Staff (1989-93) and U.S. ...
10.14.2021
Penn College names associate director of admissions
Jen M. Cullin-Hetrick has been appointed associate director of admissions at Pennsylvania College of Technology. Previously, ...
10.14.2021
VW Club adds $2,000 to automotive restoration scholarship
The Harrisburg Area Volkswagen Owners Club has again donated funds toward a scholarship for automotive restoration students at ...
10.14.2021
College's PA program joins national celebration
Penn College's physician assistant program concluded its celebration of PA Week on Tuesday. PA Week is a nationwide celebration, ...
About Penn College Magazine
Penn College Magazine, the magazine of Pennsylvania College of Technology, is dedicated to sharing the educational development, goals and achievements of students, alumni, faculty and staff with one another and with the greater community.
Subscription Update
Would you like to be added to our mailing list? Need to update your address? Prefer to receive new issues by email?
Submissions
Penn College Magazine, published by Public Relations & Marketing, considers for publication materials submitted by students, alumni, faculty, staff and other individuals.
Contact
Penn College Magazine accepts letters to the editor, alumni notes and other information from its readers. We reserve the right to edit or refuse items for publication.